OH MY JULIET! singleRelease date:
October 19, 2005
Tracklist:
01.
OH MY JULIET!
02. STAR BRIGHT LOVE
03. rain rain rain...
04. I hold you tight
>>
Download
(MF)
OH MY JULIET!
is a ridiculously catchy pop song that I find myself singing and dancing to whenever it comes on. The single was produced by Tommy february6 and was a big hit. It was even featured on the soundtrack for the movie Babel. Seeing as Fujii Takashi is usually busy hosting shows and guest appearing on others, he doesn't have time for his side career in the jpop world.
The video for the title track is hilarious. A boy transfers to a school in America (that student being none other than fujii takashi of course!) and falls in love with these two girls (or one. idk. but there's two he's all lovey dovey over) and tries to woo them with his dancing and singing ability. It's a sort of parody on stereotypical American lifestyle (i guess~), and I love it. :D
fdklglg I'm like, really bad at describing stuff so you should just
watch the pv
!!
You'll be hooked, I swear.
As for the other tracks on this single, I really only like
STAR BRIGHT LOVE
. It's a really cute pop song. The other two songs aren't bad, but they aren't the greatest. But that's just my personal opinion. :D;;
I hope you all enjoy this single as much as I do!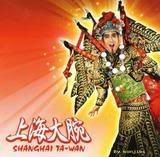 Shanghai ta-wan albumRelease date:
April 26th, 2006
Track list:
01. Amai Kaori
02. *~Asterisk~
03. vestige
04. Me ga Kirai
05. NO MORE CRY
06. Rirura Riruha
07. T&T
08. OH MY JULIET!
09. Get Down
10. T&T Remix Version
>>
Download
(MF)
I'll be honest - I'm not too crazy over this album.
Shanghai ta-wan
has a few catchy tracks, but then again, personal opinion. 8D;
I really like
*~Asterisk~
, which is a chinese version of that song by Orange Range. (You know, used as the opening theme for that anime Bleach.) The rapping kind of bothers me, because it just sounds weird, but probably because I'm used to the Japanese version.
The next track,
vestige
, is a slower song. It's not that sort of cute slow, it's more of a mellow slow. There's something about the way the music and Fujii Takashi's vocals mix that makes it nice to listen to.
NO MORE CRY
is more upbeat, and imo catchy. :D Whenever I listen to I get the chorus, "NOOOOO MOOORE CRY~" stuck in my head.
Another favorite of mine is the chinese version of
OH MY JLIET!
. I personally like both versions about the same (with japanese winning by a little bit). It does sound weird with the chinese language, but once you get used to it, it's another track you'll want to sing along with.
This is all I have from this man. If anyone has more, pleasepleaseplease share! It's so hard to find his stuff.
I also have his OH MY JULIET! pv (both subbed and unsubbed), Watashi no Aoi Sora pv, and Ai mo Kawarazu pv.
If anyone would like them, just ask. ♥
Remember, you aren't required to join but please do leave a comment with a simple 'thank you!'
But
joining
would be great too! Because I want to upload stuff other than jpop, jrock, and kpop, but since there's really no place where I can advertise such uploads (none that I know of, anyways) I don't see a point. D:
Current Mood:
bored
Current Music: He Said She Said - Ashley Tisdale